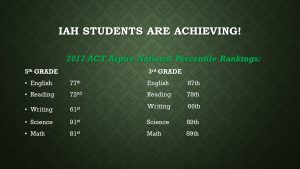 IAH proudly uses Renaissance Star 360® to assess levels of each student and to provide them with a personalized goal to work toward to. When you know precisely what students already understand, it's easier to plan what to teach next. Renaissance Star 360® assessments provide achievement and growth data you need for screening, progress monitoring, and guiding instruction in the least amount of testing time.
Accelerated Reader 360 engages K-12 students in independent and close reading practice. They complete close reading activities built into nonfiction articles, choose their own independent reading books, and take short reading comprehension quizzes. Students work toward personalized reading goals and grow!
Renaissance Accelerated Math® provides deep math practice at the unique levels students need in order for them to grow—from foundational skills to grade-level standards. It's the key to mastering math: Building incremental confidence. Once students feel confident, they open up to mathematical discourse in the classroom and productive struggle in their practice, to enrich their math experience.
---
ACT Aspire is used as IAH standardized testing and it provides the following:
a standards-based system of assessments to monitor progress toward college and career readiness from grade 3 through early high school, connecting each grade level to the next
school-wide assessment, data management and reporting functions for all students, aggregated and disaggregated groups of learners, and the individual learner
alignment with the ACT College Readiness Benchmarks
student outcomes aligned to the Domain and Cluster reporting categories of the Common Core State Standards
---
Our Staff uses our own internal program to keep and maintain student information , learning management, and grades.
In addition, we use Class Dojo. It is an excellent way to see what your child is doing at school, follow their behavior, check attendance, and finally a great way to communicate with your child's teacher(s). For more information, please contact IAH office.
---
Testing:
ACT Aspire Testing
STAR 360 Reading and Math Assessments
ELL (ESL) Assessment Testing